Overhead Garage Door Repair Brooklyn
Overhead Garage Door Brooklyn NYC
The garage door you own, and it can be overhead door in Brooklyn, or anywhere in New York, might be the door which you are using the most to go into your home or your business in Brooklyn NY. And sometime not just you. It can be any member of your family. And since some garage doors in Brooklyn may be used over and over again a day, simple calculation can bring us to the result that there are garage doors in Brooklyn NY that are being uses more than 1,000 times each year.
So when an overhead door in Brooklyn is being used that often, considering the fact that most people ignore the need of garage doors is NYC for maintenance, we see during our garage door repairs in Brooklyn clients with garage doors which are in poor condition. Our job, as a professional and reputable garage door company that service Brooklyn NY and the area, is to provide our customer with the best advice relating to their garage door. In some cases, repairing a garage door in Brooklyn may be the best choice, but not once it is better for you to completely replace the overhead door and install a new overhead door. If you located in Brooklyn NY, and you are not sure what the best choice is good for you, contact us, and we will be happy to help.
Doctor Gate offer various overhead door services in Brooklyn. We offer commercial garage door repairs in NYC, garage door repairs in Bronx, and even Storefront roll door repairs. But we are not limited just to that area. If a customer who heard about our service, and he is interested in garage door repairs in New Jersey, we will never say no. Fixing overhead doors is what we do, and we will never say no to a customer who need our help.
Fixing garage doors in Brooklyn NY
At times the problem is insignificant and easy to resolve, such as the common problem of garage door safety sensors troubleshooting. Which is something that the technicians of Doctor Gate are dealing with almost on a daily base. The important thing when your garage door need repair, and it doesn't matter if it is a garage door repair in Brooklyn NY, or even garage door repair in Staten Island New York is to not try and make the door work, or to try and force it using too much force, when undoubtedly there is something wrong with your garage door. The smartest thing for you to do will be to get in touch with a local garage door repairman in Brooklyn, who offer same day and emergency garage door repairs near Brooklyn so he can come and fix the problem, and allow you to get back to use a perfectly operating overhead door.
We provide to fix any overhead door in Brooklyn today. We have the experience to locate the problem on the spot, and wince we carry the parts for almost every overhead door in Brooklyn with us, we can probably complete the repair on the spot.
If you need to repair your broken garage door in Brooklyn, there are few things you need to know:
You should be searching for a qualified garage door expert to do the repair. There are 2 things that a skilled garage door tech should include in he's repair, and this goes for every garage door repair, whether industrial overhead door repair in Brooklyn NY, or residential door repair in the NYC:
The first, every overhead expert need to be capable to locate the problem, and should be able to repair it and get the door back on track again. That is the reason we instruct all our overhead technicians in Brooklyn to ensure the located the problem first, and only then to start the repair itself.
The second point, the garage door expert need to find the reason for the problem, and repair it so it won't occur again. For instance : If the garage spring broke, due to lack of maintenance, or due to age and excessive use, there is nothing much to do, apart from repairing the problem and lubricate the garage door by the end of the job. But if the spring of your garage door snapped since the springs weren't the right springs for the door, or if the tension on the springs wasn't right, the specialist should replace both springs with the right springs, and make sure that the pressure is the right for the door.
We built authority as the best garage door in NYC, and we will do anything whatsoever to maintain that reputation. And in order to do that, we train our technicians to make sure that by the end of every repair, they need to ensure that the door is working correctly, and that the customer is satisfied with the final repair. We have performed numerous garage repairs in Brooklyn and overhead door repairs in NYC, and if you will take a look of Doctor Gate Reviews, you will find that all of them are satisfied with the results.
Garage Door Installment Brooklyn
If you decided to replace your garage door in Brooklyn, and to install a new garage door, there are two things you should never ignore:
The quality of the garage Door.
The installment.
We want to spend some time and explain about those two variables, which turn out to be very relevant when you are planning to install a new garage door. The two parameters are relevant for all types of overhead doors, anyplace in the US. They can be used for new garage door installment in Brooklyn, and new overhead door in Bronx. The important thing is that when you keep those 2 things in mind, you are on the right path for a new high quality garage door in Brooklyn. From the kind that will serve you for many years.
The garage door itself
When planning a new garage door installment, whether it is a new garage door installment in Bay Ridge Brooklyn, or garage door installment in Williamsburg New York, You want to purchase a top quality garage door, from a reliable garage doors supplies; From the kind that can last for many years, and which will give you the right value for the money you invested when you purchased the new door. There are many garage door manufactures in New York, and if you ask them, each one of them will probably tell you that they build the best overhead doors in Brooklyn. Doctor Gate isn't here to determine which garage door manufacture offer the best garage doors in Brooklyn, but what we can say is that many times, the different between a high quality garage door and a low quality garage door is a matter 10-20 percent, but the difference is between a door that will last for 2-7 years, and a garage door which will last 25-40 years. So if you look at it in the long run and think of it as an investment, it is better to invest in the top quality overhead door, and enjoy a strong and reliable door for years.
Doctor Gate install new garage doors top quality, and from the leading overhead doors manufacturers. Mainly because we know that when we install a high quality garage door in Brooklyn, we are adding by that one more happy customer to our list. And since we have a credibility to maintain in New York, we will always provide quality that will maintain that reputation. The tip we just gave you can be used in many different fields such as home doors, Security doors, and roll up gate in Brooklyn.
New Garage Door installment Brooklyn
In case you are located in Brooklyn NY, and you are looking for someone who install garage doors, Doctor Gate will be your best decision. We offer installment of garage doors from all brands in Brooklyn, and guarantee you a high quality installment job.
Since we know that a high quality installment is something that will add one more happy client to our long list of satisfied clients near Brooklyn, and since we have a reputation to maintain, we only use the best overhead doors technicians to do the installment, so by the end of the job, you will be supplied with a perfectly working garage door. So, what are you waiting for ? If you are located in Brooklyn NY, and need a garage door installment, get in touch with us, and get your garage door repaired today.
Garage Door Maintenance Brooklyn NY
Pretty much all overhead doors need to be lubricated and maintained two times very year. It may be a garage door in Flatbush, or commercial roll up gate in Manhattan. Even if the overhead door you use is working fine and very quietly, and there isn't seem to be something wrong with it, it still need maintenance and lubrication once in a while. Think about the vehicle you are driving. Even if the vehicle is fine, and there is nothing wrong with it, it still need to be inspected at least one time a year and have the oil replaced, and no one will even think about ignoring the need of the vehicle to be inspected. Just like the car inspection, a lot deepened on the condition of the car, and how frequently you use it. The same goes for overhead doors maintenance. How often you use the door, and the condition of the door affect the maintenance itself, and how often a garage door maintenance need to be performed.
No need to be concerned that the maintenance of your overhead door in Brooklyn will cost a lot, or that it may take a very long time. A garage door maintenance is not a high-priced process, and can be performed by every overhead door technician in New York. Besides lubricating the garage door components such as the springs, the rollers, and other moving objects, overhead door maintenance should also include a garage door safety check, to make sure that the door function properly, and to make sure it is safe for use, and by using the door you are not putting yourself or your family members at risk. If the door need repairs as well, we offer same day and emergency garage doors repairs in NY, so we can repair your broken overhead garage door today.
Garage Spring Brooklyn New York
Before we begin, we would like to state clearly, that a broken garage door spring, or any other trouble with a garage door in Brooklyn can be dangerous. A broken overhead door, whether it is a torsion spring repair, or extension spring repair, should not be used, until a qualified garage door technician in Brooklyn NY will fix it and replace the springs.
Have you ever wonder just how it can be this easy to manually lift up and open even the heaviest garage door in Brooklyn? How is it possible that a door that weight few hundred pounds can be open up with one hand without too much force from you side? The answer is in the garage door mechanism, and of course the spring system.
Whether your garage door in Brooklyn is operated by extension torsion spring system, or with torsion spring system, a lot of calculation were made by those who engineered the garage door, so the right spring will move the door, and maintaining the gentle balance that keep the door up when you open it, and keep down when you close it. There are many overhead doors, and although all may seem the same to you, they are equipped with different springs.
Since the garage door springs are under a lot of tension, and sometime being used few times a day, a snapped garage door spring in Brooklyn is not a rare problem, and definitely not a problem that require to replace the whole door, you just need to find a garage door technician who repair and replace garage door spring in Brooklyn New York, to come and replace the broken spring for you.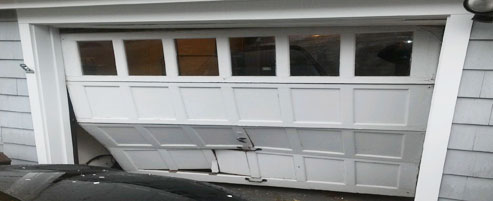 Torsion Spring Repair Brooklyn 
If your overhead garage door is working with the help of torsion springs, and one or both of the torsion springs snapped, do not try and use the door, because it is dangerous. A torsion spring replacement is not an easy project, and it should be performed by a garage door expert, who can fit the right spring for the door, and that will know how to replace the spring in a safe way. There are a lot of different sizes of garage doors in Brooklyn, and not every spring can make every door work. For every garage door, there is a specific size set of spring that will make it work, and do not expect an overhead door in Brooklyn or any garage door in NYC to work properly with the wrong set of springs.
Garage Door Opener Repair Brooklyn New York
Doctor Gate repair and install openers from all manufactures in Brooklyn. There is absolutely no garage door issue we cannot fix, and a garage door opener is a thing that we are dealing with on a regular basis while servicing garage doors near Brooklyn NY. Sometimes the problem is basic, and can be repaired within a short while, and sometime it is a complicated one, that make us take into account to replace the opener with a new one, since the repair may cost more than a fresh installment.
If you are seriously thinking to replace your garage door opener in Brooklyn, or thinking to install a new garage door opener, we are the solution for all your garage door needs. We carry high quality garage door openers, such as Chain drive openers and Belt drive openers. There are many good quality openers companies, but we prefer to work with Liftmaster! They offer the best garage door opener, for a reasonable price, and at the same time the Liftmaster garage openers are strong enough to last for 30 years and more, and they will fit all overhead doors in Brooklyn New York.
Garage Opener Troubleshooting
Whenever you are trying to use your garage opener to open your garage, and all you hear is simply sound of the opener (Or no sound at all), but the opener simply don't open, it may be due an issue with the garage opener itself, but it can also be due to different reasons. The way that automatic overhead doors operate, and it goes for garage door, whether garage door in Manhattan New York, or broken iron gate in Brooklyn, is that when the spring is damaged, the garage door is out of tracks, or any other issue with the garage door itself, it affect the way your garage door opener in Brooklyn NY operate.
If there is a problem, you must stop using the garage door, and for sue stop trying to use it remotely. If you will try repeatedly, it eventually burn the opener, which could be repaired if you would call a garage door supplier on time. And with our Emergency garage door repairs in New York, and since we carry parts for all garage door openers in NYC, we can fix your garage opener today. All you have to do is to give us a call, and one of our team members will visit and repair the garage door operator, or replace it with a new unit.
Commercial Overhead Door Repair Brooklyn NY
When an overhead garage door get stuck, off tracks, the first thing you should do is to stop using it, and to get in touch with a local garage door supplier who offer same day overhead door services in Brooklyn New York. Many times when we arrive to service an industrial garage door in NYC, we learn that beside the problem which prevented the garage door from working in the beginning, in addition there are problems which accrued due to repeat trying to operate the door although it is broken. In most cases, if you will try to force the garage door opener to open or close the door, instead of using a garage door service in Brooklyn, you will burn up the opener, something that eventually will probably lead to a more substantial damage and as result to a repair that will take longer, and that will cost you more. And as the owner of a business in Brooklyn NY, you probably know the value of a garage door which operate perfectly, and that doesn't require a garage door specialist in Bronx to come and repair it every other month.
Doctor Gate are experts in commercial garage doors repairs and installment in NYC. We offer same day repairs for broken commercial and industrial overhead doors, and there is no problem we can't solve. It might be a broken commercial garage door spring repairs, or new overhead door installment, we can fix it. You can check out many garage door galleries, like Brooklyn Garage Doors Gates Gallery, and find the right garage door to suit your needs. It can be a walk-through garage door (Small door inside the garage door), or a glass and aluminum garage door. The important thing, just like residential garage doors, is to invest in quality. And quality is us. So if you look for high quality garage doors in Brooklyn NY, we can help.
Remember that no broken garage door repair worth the safety of your family members, and the risk of you injury during an attempt to repair your broken garage door on your own. Even if you need emergency garage door repairs, any time, any day, we will be there to help you. All you need to do is to call Doctor Gate, and we will fix your garage door today.
Overhead garage door Brooklyn NY:
Brooklyn garage door repairs.

Brooklyn  Garage door installment

Brooklyn NY garage door spring.

Brooklyn garage opener repair.

Liftmaster repairs in Brooklyn.

Brooklyn Residential garage door service.

Garage door maintenance Brooklyn.

Emergency garage door repairs in Brooklyn.

Industrial garage door repairs in Brooklyn NY.