Arm Barrier Gate New York
Arm Barrier Gate Repair New York
There are many types of gates in New York New York made from different materials. Each one was installed from a different reason. There are commercial rolling gates, residential driveway gates, overhead doors, swing gates, automatic sliding gates, rolling gates, and more. In this article, we will go over the arm barrier gates in New York New York. Also know by the name boom gate, Automatic Rising Arm, road barrier, parking arm barrier, boom barrier and more.
Unlike the heavy-duty iron or steel gates installed all over New York are, road barrier is the most functional and at the same time attractive solution for controlling public and private vehicle transit entering and exiting a place. It can be a parking lot, a parking garage, or other roads that require a barrier. There are many arm barriers installed all over New York, some of them were installed many years ago, and some of the relatively new. And one of the biggest advantage arm barriers have over the heavy duty gates is their ability to control large volume of vehicles, and to keep working even when they are being used hundreds times a day.
Who in New York need arm barrier gate?
The heavy duty arm barriers installed in New York are designed as a method for controlling the passage of vehicles through a designated entrance or exit (As mentioned earlier, the arm barrier can be installed in places with high volume of traffic). The arm barriers can also be installed as a traffic calming measure to prevent through traffic, whilst allowing authorized vehicles such as emergency services vehicles and public transportation vehicles to take advantage of the shorter more direct route.
One of the benefits associated with automatic arm barrier systems is the tried and tested results they offer for security purposes. Where access to specific areas in a property needs to be restricted to keep people and infrastructure safe, an automatic barrier is an ideal product. Given that it forces any person in a vehicle to stop before entering or exiting, and it is one of the preferred solutions in New York New York for areas with high volume of vehicles.
Many automatic arm barriers in New York are fitted with equipment which only allows people with a code or a pass card to enter (Security system). Indeed, the sight of an automatic barrier is often enough to ensure that property is not entered by the uninvited. Not only do arm barriers of this type keep access areas secure, they offer employees and other authorized personnel who are allowed through a real sense of security and safety. This is why arm barrier can be one of the best solutions for commercial and residential spaces in DC.
Automatic Arm Barrier New York NY
Most arm barrier (But not all) Doctor Gate supply and install in NYC are equipped with an electric operator. Some of the motorized arm barterers we supplied and installed in New York are: airports arm barriers, parking lots barriers, shopping malls, parking garage, and more. You've probably seen many of them, since automatic arm barriers are popular in New York area.
The truth is that these arm barrier operators are designed for the safety of the public and employees in areas where arm barrier gates must prevent the entry of unauthorized vehicles. Clearly, the stronger and the better quality of the arm barrier operator, the more efficiently the vehicles in New York can enter and exit an area without hampering busy traffic flow. They can even be designed with a single arm or with a slide or swing operator to prevent more cars from entering a specified area before the previous car has left. As our installers services installed and repaired countless amount of roll down doors in New York area, we can proudly say that the technicians of Doctor Gate are qualified to service any type of arm barrier in New York New York. But not just arm barriers. We can service any type of gate or overhead door in New York. It can be commercial roll up door repair in Manhattan, or garage rollup door in Brooklyn. When you are an expert, you can service all of them.
Arm Barrier Gate Repair New York NY
Since 1990, Doctor Gate has been one of the leading companies manufacture and installation of arm barrier operators in New York. These operators are engineered using the highest quality of craftsmanship, the latest technology, and constructed from the most durable materials. They are all designed to work even in the toughest weather conditions in New York. The arm barriers also conform to all strict safety and security standards making them an excellent choice for any gated entrance. Doctor Gate provides customers with a wide range of arm barrier operators designed to fit all New York arm barrier gate applications; which are also designed and supplied by the company. If your arm barrier is broken, damaged, nit responding, or anything that prevent it from opening and closing properly, our experts are here for you. Contact Doctor Gate for same day arm barrier repair.
When the barrier's arm gets jammed and damaged, it can be a serious issue that can stop the traffic flow, disrupting the entire parking operation and increasing unnecessary man hours (Not to mention that a broken arm barrier –in New York or anywhere else - can be dangerous). In that case you will need arm barrier specialist who know arm barriers in New York and know how to repair them. Quickly receiving a replacement gate arm to restore the parking facilities normal equally critical. If the arm barrier cannot be repaired, and the technician will need to replace the arm, the most common options available for barrier gate arm replacements are the material in which they are constructed. Aluminum Gate arms are extremely popular and so are the lightweight PVC Arms, although wooden gates are still available, they are considered bulky and obsolete. We have the tools, the parts and of course the qualified technicians and installers who can deal with any arm barrier in New York New York. Just call us, and one of our experts will be on his way to service your arm barrier gate, just as we did and will continue to do all over NYC and the area.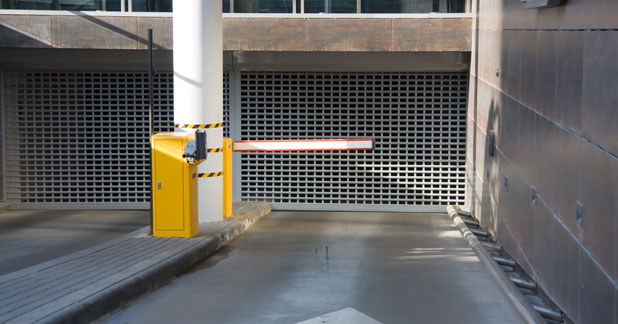 Arm Barrier Gate Installation New York
When it comes to new arm barrier gate installation, the rule is simple: Invest your money in quality arm barrier gate, and get quality in return. You do not want to purchase a cheap low quality arm barrier, just to find out it require repairs every other week. And this rule apply to all types of gates and doors. It can be a new roll up gate installation in Washington DC, or new rolling gate installation in Manhattan, invest in quality, and you will get quality in return. Doctor Gate Only supply and install high quality arm barriers. In case you are looking for the cheapest possible gate, we might not be the right company for you. We believe in quality, and this moto is what made us one of the leading gate companies in New York area.
Since there are a variety of sizes and models, the experts of Doctor Gate make sure customers choose an arm barrier motor best suited to their application. Arm barrier's operators are generally constructed with a durable aluminum alloy chassis, are corrosion resistant, and light enough for one person to carry and install (Although you need to be extremely professional to be able to install the commercial arm barriers we install in New York on your own). Doctor Gate still prefers to perform all its own installations to minimize future arm barrier gate repairs and to prevent its New York clients from wasting money on unnecessary replacements in the future (Again, this is not a job for DIY). Most arm barriers installation involve using power tools and can be dangerous. Our installers in New York have successfully installed hundreds of arm barriers gates, and know everything there is to know about this kind of projects.
Doctor Gate continues to provide clients with the latest technology and innovations that also prevent drivers from suffering stress-related blood pressure hikes!

High quality parts for all types of gates in New York.

Qualified and experienced installers.

100% solid state plug in control circuit provides all necessary control functions.

Gate arm rebound feature.  Arm will reverse upon contact.

Rugged weather-resistant, 10 gauge steel housing.

Working with leading arm barriers manufactures such as Liftmaster.

Maintenance service for all arm barriers in New York.

Easy access to drive mechanisms through hinged, locked, weather-resistant cover. All with full support to make sure the arm barriers will work with 0 issues.

Access to control equipment through all-weather, locked side door.

Free consultation to help you get the right arm barrier for you.
Arm Barrier Gates Services in New York NY
Doctor Gate offer a range of automated arm barriers to help manage vehicle access on or around your property in New York New York. Models are available up to 8M long that suits large industrial and commercial sites in New York, right through to short 4M and articulated barriers for car park applications. All are high quality parts and operators from leading roll down gates suppliers in New York New York.
Automated barrier arm systems make it easier to manage the vehicle traffic flow in and out of your property and restrict access to unauthorized vehicles, providing enhanced security and peace of mind. If you noticed arm barriers installed in New York and in the area they might be arm barriers installed and serviced by the installers of Doctor Gate who have successfully supplied and installed all types of arm barriers all over New York New York and the area.
Doctor Gate will help you determine the exact model of arm barrier that best suits your property in New York, depending on the size of your entrance, the level of usage and your budget. We have models that are ideal for midsize business premises, through to heavy-duty arm barriers and units specifically made for continuous duty car parking applications. We can also work with you to add additional safety accessories as required and integrate these with your access control systems. So know that when you are hiring Doctor Gate to service, install or repair arm barrier gate in New York, you are choosing professionals that cover all aspect of commercial gates services in New York. For same day repair, or for consultation, call us at 917-338-4257, and one of our experts will be happy to assist you make the best decision regarding your next arm barrier service in New York.
For Same Day Service in Manhattan NY
Call: 917-338-425
Gate Service Manhattan New York:
Gate installation Manhattan.

Gate motor Manhattan.

Gate technician Manhattan NY.

Commercial gate repair New York New York.

Same day roll up gate repair Manhattan.

Roll Up Gate Service in Manhattan NY.

Electric roll up gate repair Manhattan.

Roll up gate maintenance Manhattan.

24-7 Emergency gate repair Manhattan.